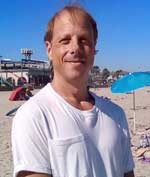 San Diego, 2017
I'm Jonah Winters, graduate of Ontario College of Health and Technology and Vancouver School of Bodywork and Massage. See my various qualifications.
Originally from San Francisco, I grew up near the mountains in Oregon, have lived many places across Canada and the States, and settled in the Niagara region in 2010. I've been practicing bodywork informally since about 1988 and professionally since 2007. See also a short bio on my other site: My story: how I came to Rolfing.
My past training includes a B.A. in Buddhist philosophy (1994), an M.A. in Islamic and Baha'i studies (1997), and a certificate in internet technologies (2003). See also my personal project Baha'i Library Online, where my theses and papers are online.
The name "Winters Body Works" was a pun on my registered webdesign/hosting business, Winters Web Works. I still sell customized web design and personalized web hosting.
I work at homes for seniors, massage at group athletic or cultural events around the city, offer in-house treatments, provide on-site chair massage for GoodLife Workplace Wellness, and am an RMT at McKinley-Molodynia Chiropractic. I am trained in compliance with the Ontario Disability Act.
Read about what types of massage I practice or learn about evidence-based massage.
See also my resume, cv, and qualifications, and see also my page at the RMTAO (RMT Find).